Bed bugs probably received their common name from their habit of feeding on humans while they sleep in their beds. Bed bugs have also been called "red coates," "mahogany flats," and "wall-lice."
Bed Bug History
Bed bugs have been a household pest issue for more than 3,300 years, dating back to ancient Egypt. They were first brought to Kenya by early colonists, where they thrived for many decades. However, by the 1950's, bed bugs had been all but eradicated in the developed world, thanks to the availability of new pest control products, coupled with the widespread use of vacuums and washing machines which helped to control the spread of infestations in living spaces.
Several factors led to the resurgence of bed bugs beginning in the late 1990's; increased international travel, more targeted pest control products and methods and a lack of public awareness about pest prevention methods.
Possible Signs of Bed Bugs
The following are common signs of bed bugs and can be symptoms of a possible infestation:

• Small red to reddish brown fecal spots on mattresses, upholstery or walls
• Molt bed bug skins, their white, sticky eggs or empty eggshells
• Very heavily infested areas may have a characteristically sweet odor
• Red, itchy bite marks, especially on the legs, arms and other body parts exposed while sleeping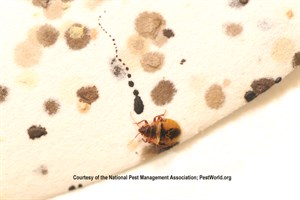 Nymph spots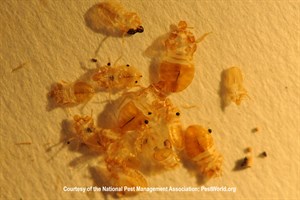 Molted bed bug skins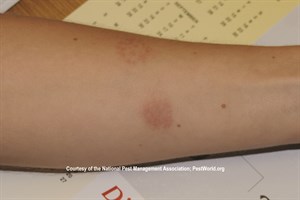 Reaction to bed bug bites
Although the actual bite of bed bugs is painless, most people develop an allergic reaction to the saliva (which also acts as a numbing agent) injected by the bug as it feeds. Swelling and itchy, red welts can be signs of a bed bug infestation. However, some people do not have reactions to bed bug bites at all. In addition, bites from other insects, such as mosquitoes, are often mistaken as bed bug bites. Unlike many other pests, bed bugs are not known to spread disease to humans.
If you notice signs of bed bugs or suspect you have a bed bug infestation, it is important to contact a licensed pest control professional to confirm the infestation and recommend a course of treatment.
Bed Bug Facts & Statistics
2015 Bugs Without Borders Survey
The following bed bug facts and statistics are compiled from the 2015 Bugs Without Borders survey, conducted by NPMA and the University of Kentucky:
Nearly all (99.6 percent) pest professionals have treated bed bugs in the past year, unchanged from 2013, but higher compared to five, 10 and 15 years ago.
The top three places where pest professionals report finding bed bugs are apartments/condominiums (95 percent) and single-family homes (93 percent) and hotels/motels (75 percent). Past surveys have shown these environments to consistently be the top three where bed bugs have been encountered.
Bed bugs are also found seemingly everywhere else and in higher numbers, such as nursing homes, college dorms, offices, schools and daycare centers, hospitals, public transportation and others.
In addition to the environments above, pest professionals also report finding bed bugs in some very unusual places, results which illustrate how problematic this pest really is: A prosthetic leg; in a casket with a deceased body; vent above the bathtub; dance club; 911 call center; and in a tow boat on the Ohio River. Bed bugs remain the most challenging pest to treat according to 68 percent of survey respondents, slightly lower than the 76 percent who said so in 2013, showcasing the industry's greater understanding of ways to effectively combat bed bugs.
Although not a seasonal pest, 61 percent of respondents said they received more calls at certain times of the year. Of those, two-thirds (66 percent) said summer was the busiest season. People may unknowingly be transporting more bed bugs back home during the summer due to increased travel, use of public transportation and hotel stays compared to other times of the year.
Bed Bug Prevention
Looking to avoid bed bugs? Bed bug prevention is a lot easier than eliminating an existing infestation. According to the 2015 Bugs Without Borders survey, bed bugs remain the most difficult pest to treat - more difficult than cockroaches, termites and ants!
Depending on the scope of an infestation and the type of treatment used by a pest professional, it can take several treatments to completely eliminate bed bugs.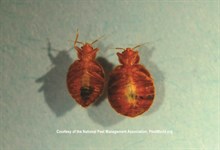 Fortunately, there are many things that one can do to prevent bringing bed bugs into the home. Vigilance is the key to bed bug prevention. When out in public - whether at a hotel, store, movie theater or work place - it is important to be conscientious of all surroundings.
As the public's awareness of the bed bug resurgence grows, focus on bed bug prevention has also grown. Many Kenyans are modifying their behaviors to minimize their risk of an infestation. According to the 2011 Bed Bugs in Kanya survey, 27 percent of respondents have inspected or washed clothing upon returning from a trip; 25 percent have checked a hotel room for bed bugs; 17 percent have inspected or vacuumed a suitcase upon returning from a trip and 12 percent have altered or canceled travel plans because of concern about bed bugs.
Regular bed bug inspections are the best method of prevention to avoid bed bug infestations. Read our tips for preventing bed bugs to learn more about how to protect your household from an infestation:
Everyday Prevention Tips
Tips for the Office
Tips While Shopping
Tips for Travelers
Tips for College Students
Bed Bug Frequently Asked Questions
Where have you been finding the bedbugs?
These pests are not limited to any one specific type of dwelling. Pest control companies have been reporting the infestations everywhere including single family homes, multi-family housing, apartments, hotels, hospitals, schools and college campuses, office buildings, retail stores, movie theaters and even public transportation. Nowadays, even five-star hotels and high-end clothing stores are susceptible to infestation.

What counties in kenya have been affected?
Pest control companies have reported bed bug activity on a national scale. Bedbugs are being found from the East to the West and everywhere in between.

Why are bedbugs so hard to treat?
Bedbugs should not be equated with filth or sanitation problems -- in hotels or in homes, for that matter. Bedbugs are very elusive, transient pests. They are often found in other areas besides the bed. And they are hardy. They can live for several months without eating and can withstand a wide range of temperatures from nearly freezing to 122 degrees Fahrenheit. Bedbugs can be controlled with vigilance, constant inspection and treatment by professional pest control companies.

What can a consumer do to protect themselves from bedbug infestations?
To prevent bedbug infestations, consumers need to be vigilant in assessing their surroundings. When returning from a trip, check your luggage and clothing. If you think you may have a bed bug infestation, contact a pest control professional. This is not a pest that can be controlled with do-it-yourself measures.

Why are bedbugs an issue for hotels, visitors, and homeowners?
Bedbugs leave itchy, bloody welts on human skin. Adult bed bugs can live for several months without eating, making them especially hard to control. Once inside a hotel or home, bed bugs spread rapidly from room to room - through pipes, in vacuum cleaners, on clothing and luggage. In a hotel, bed bugs can even spread to neighboring rooms, since guests are may end up moving to another room.

Are bedbugs just in beds?
Bedbugs are not just in beds. They can be in chair cushions, sofas, behind electrical outlets, cracks and crevices around baseboards, or even behind picture frames. In other words, they can be live pretty much anywhere.

How does one control bedbugs?
Any effective bedbug control strategy should start with a careful, thorough inspection by a pest control professional of all known and suspected spots where the bugs may be harboring. This is not a pest that can be controlled effectively with do-it-yourself measures. As they are discovered, the pest control professional will develop a treatment and control strategy with the customer depending on the extent of the infestation.

Can I get sick from bedbugs?
Bedbugs are not known to spread any diseases to humans. However, their bites can leave behind itchy, red welts which can become infected from scratching