Cockroaches: Facts, Identification & Control
Details

Written by

Intex pest ltd

Category: Cockroach
Hits: 745
Appearance
Cockroaches can measure over 50 mm (2 in) length, with tropical species tending to be larger than those found in other climates. Cockroaches have six legs, two antennae and some have wings. However, most winged cockroaches are not particularly adept at flying. Read more about what a cockroach looks like.
Cockroach Facts
Cockroaches belong to Kingdom Animalia, Phylum Arthropoda, Class Insecta and Order Blattaria. Some species invade human dwellings and are considered pests.
Others are beneficial to the environment as important recyclers of decaying organic material. The pest cockroaches can be carriers of various diseases because they are commonly found near waste deposits or in the kitchen, where food is present. Restaurants may also experience cockroach infestations.

Cockroaches emit unpleasant odors and may also produce sound. The Madagascar hissing cockroach is the most famous of these vocal cockroaches, although more common species may produce quieter clicking or chirping noises.
Details

Written by

Intex pest ltd

Category: Cockroach
Hits: 935
Cockroaches can wreak havoc on your home. To win the war in cockroach control, here's what you should know:
Entry: Cockroaches can enter your home in many different ways, from the outside through cracks and crevices, vents, sewer and drain pipes. We even bring them in on products like grocery bags, boxes, purses and on our person!
Ideal environment: Your home is an ideal breeding ground for certain species of cockroaches. With plenty of food, warmth, water and nesting sites, they can remain active all year round.

Reproduction: Cockroaches reproduce quickly. For every one you see there can be many, many more hiding and multiplying behind your walls.

Evasiveness: Because cockroaches typically are nocturnal, if you've seen one, you probably haven't seen them all. The few cockroaches you see by day could mean they were likely forced out by overcrowding; a possible sign of severe infestation.

Allergies/Asthma: The debris created by cast-off cockroach skins, dead bodies and droppings can aggravate allergies, especially in children and sensitive individuals.

Do-it-yourself ineffectiveness: Cockroaches are better at hiding than you are at finding them, and their eggs are naturally protected from many over-the-counter insecticides. Without special equipment, materials and know-how, cockroach control can be a losing battle
Details

Written by

Intex pest ltd

Category: Cockroach
Hits: 1410
Some handy tips about cockroaches and cockroach pest control.
The cockroach is a  large insect with long antennae and 2 pairs of wings. The most common cockroach in kenya the Oriental which measure (up to 25mm in length). They breed rapidly, eat almost anything and will tolerate many different habitats. The average adult may live for up to six months.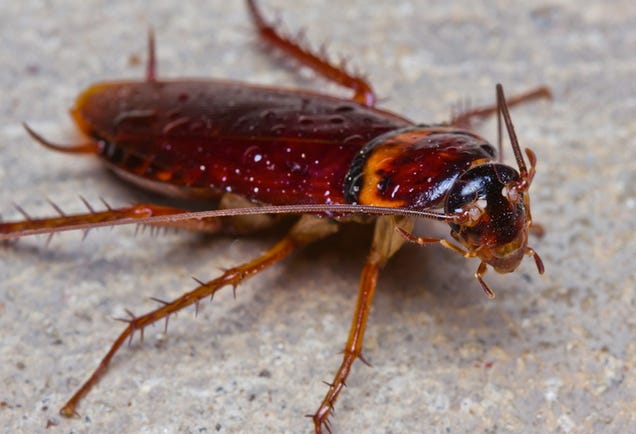 Cockroaches are an extremely distasteful variety of pest. The are often found in the home and are problematic to businesses. Especially in the catering sector because they carry diseases such as salmonella, typhoid and dysentery. Infestations have also been linked to skin disorders such as eczema and asthma. The most vulnerable to infection are children and the elderly.
Cockroach pest control
They like places that contain food, warmth and water. They will find most places in Kenya suitable. Although infestations may begin in areas that have poor levels of hygiene. They will travel to find other suitable premises that possess ideal situations for them to feed and breed.
Cockroaches are one of nature's tough survivor species. This makes cockroach pest control difficult. They adapt extremely quickly and many 'do it yourself' products will fail because they are not up to date.
These insects are also good at finding refuge to escape such measures. If you have a cockroach problem it is very important you seek professional help to stop the spread of infestation. With the right eradication program you can rid your home or business premises of the infestation quickly and safely.
How do I know if I need cockroach pest control.
The basic rule of thumb is if you see one of these insects, it is safe to assume you have many. They can progress from egg to sexual maturity in ten weeks and each egg case can usually contain an average of 30-40 eggs. Sometimes you may see eggs hanging off their backs as they move.
Cockroaches are usually nocturnal but where there is a heavy infestation you will often see them in the daytime. Their droppings will often be found wherever there is suitable food and will look similar to black pepper granules. A strong sour smell is often noticeable where there is a particularly heavy infestation.
How do I get rid of an infestation?
cockroach gel pest removal
Intex Pest Control are specialists in cockroach pest control services and our service is guaranteed. These insects are particularly difficult to exterminate so it is important that professionals are used immediately. We have the most up to date procedures to treat the problem including sprays and fogging and the very latest food substitute gels. Our technicians are friendly and knowledgeable and are Cockroach Control Qualified so you can be sure the service you are getting is the best on the market.